Whole-Foods Plant-Based Mulligatawny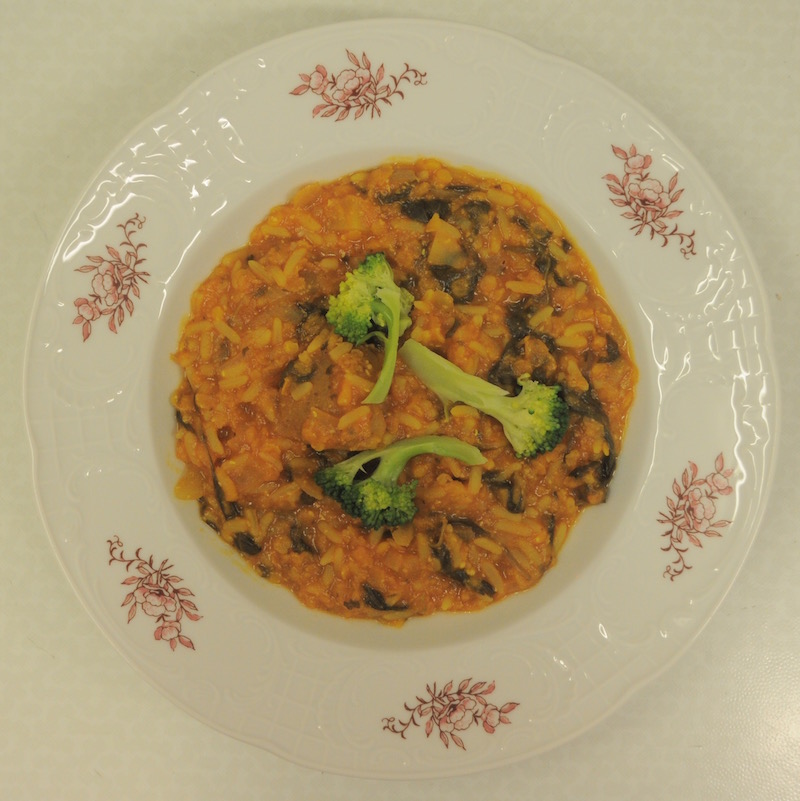 Description
A nutritious and filling soup with mild spices
Ingredients
2 onions, chopped finely
2 cloves of garlic, pressed
Half tsp grated fresh ginger
1 mug red lentils, washed
Half a mug rice, washed (if you are avoiding rice, you could increase the amount of potato)
1 mug tomato passata
3 medium potatoes, chopped into cubes
150g young leaf spinach
4 mugs water
1 tsp coriander
1 tsp dried parsley (or tbsp fresh)
2 tsp curry powder
Half tsp turmeric
Black pepper
(Some steamed or lightly boiled broccoli as a super-healthy garnish)
Directions
Gently dry-fry the onion for a couple of minutes in an extra large saucepan, stirring regularly. Add the garlic and ginger and continue to fry for a minute
Add the spices and stir. Add all of the remaining ingredients (but not the broccoli) and bring to the boil. Allow to bubble vigorously for about 5 minutes with a lid on (to prevent splashes!)
Turn down the heat and simmer very gently, stirring regularly. The length of cooking time depends on the type of rice you have chosen. After about 40 minutes, try some and see if cooked. If not, give it a little longer. You may need to add a little more water if it is too thick or sticking to the bottom of the pan.
When you turn the heat off, leave the soup with the lid on for 10 minutes to allow the flavours to settle. Serve with the broccoli on top.