Carrot and Lentil Simple Soup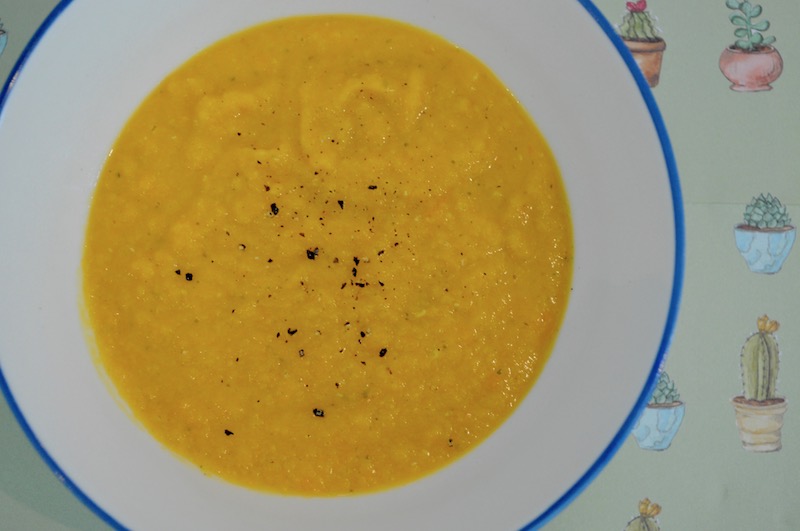 Description
There's nothing ground-breaking about this soup, but it's quick, easy, cheap, doesn't require specialist equipment and is very nutritious. And it tastes nice, too!
How nutritious? Each portion provides, roughly, depending on size, individual needs and gender of person:
B1 - 30%
B6 - 25%
Folate - 30%
Vitamin A - 800% (it's not dangerous to have this amount in vegetable form)
Vitamin K - 20%
Iron - 50%
Zinc - 25%
Fibre - 50%
(Based on RDAs from Cronometer)
Ingredients
1 mug red split lentils
8 carrots
1 tsp ground coriander (unless you hate it, in which case you could use cumin)
1 tsp dried parsley
50g creamed coconut (from a block, saturated fat removed - that's the transparent bit - just cut it off)
1 stock cube (you could use low-salt version)
1 litre water
Directions
Place the lentils in a large saucepan and rinse them well (to do this, simply fill the pan with water, swish the lentils, wait for them to settle and then pour away the water, retaining the lentils - repeat three times)
After the last rinse of the lentils, place on hob and add the water. Bring to boil then reduce to a medium bubble.
Wash, peel (if you prefer) and grate the carrots.
Once the lentils start to soften slightly add the coconut, coriander and parsley.
Add the carrot and stock cube. Bring back to boil then reduce to medium bubble.
Allow to simmer for about 20 minutes until the ingredients are nice and soft.
Use a stick-blender to blend to your preferred consistency. You can eat it without blending if you don't have a blender.
Serve whilst hot with a little seasoning.