Spanish Style Lentil & Tomato Soup with Tasty Toppings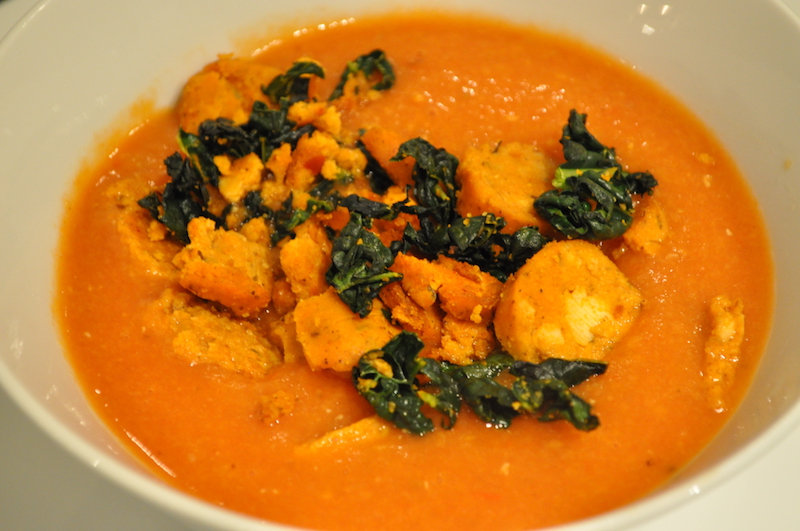 Description
This beautifully nutritious soup is easy to make and you can add a variety of toppings according to taste or dietary needs. It takes inspiration from traditional Spanish flavours and delivers a filling and warming meal. This quantity makes four generous portions.
A portion will likely fulfil your daily needs of:
Vitamin A
Iron
Manganese
...and more than half of your daily needs of:
Folate
as well as a good amount of protein and very little fat.
Toppings:
We used some finely chopped cavolo nero and sliced Tofoo spicy tomato sizzlers which we dry-fried. Garlicky croutons would be lovely with it, too.
Ingredients
250g dried red lentils
2 onions
2 medium carrots, peeled and finely chopped or grated
4 cloves garlic
1 heaped tsp smoked sweet paprika
1 jar passata (680g roughly)
2 litres water
stock cube(s)
Directions
Place lentils in a saucepan and rinse three times, discarding the water and any dodgy looking lentils/stones
Put on hob and add the two litres water. Bring to boil and keep at a fair bubble for about 10 minutes whilst you prep the onions etc.,
Chop the onions and garlic
Add the onion, carrot, garlic and paprika
Add the stock cubes & passata. I tend to do this once the lentils have softened as otherwise the acid and salt (if your stock cube contains salt) will cause the lentils to cook more slowly.
Leave to simmer gently for about 20-30 minutes until the carrots are soft enough to blend using a stick blender
During the simmer time, prepare your toppings
Blend with a simple stick blender, add toppings and delight in such a simple but tasty meal.