Vegetable & Lentil Soup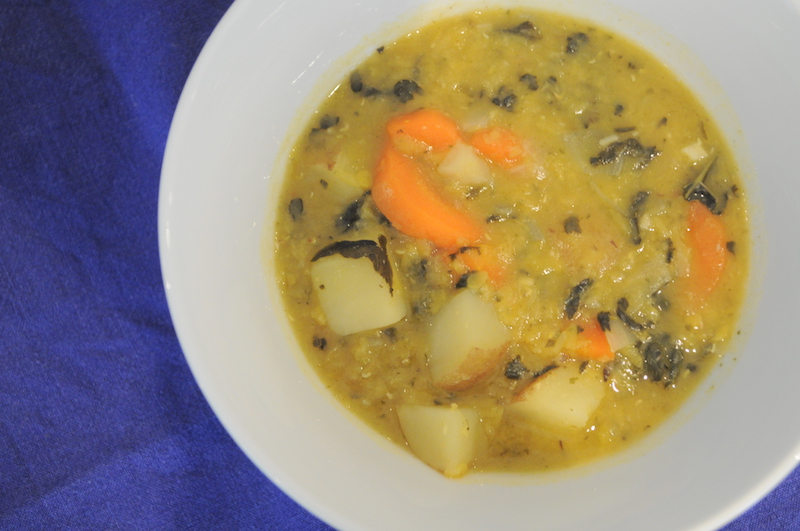 Description
This is a basic recipe that almost anyone should be able to follow. The preparation takes about ten minutes and then you just leave the soup to simmer - very easy!
For those of us in the UK, these are all very cheap ingredients so it's an easy, nutritious and cheap meal.
Ingredients
4 carrots, peeled and chopped
4 small potatoes, chopped
4 small onions, finely chopped
4 cloves garlic, finely chopped
250g red lentils
4 large leaves of cavolo nero, stalks removed
1 tsp dried thyme
1 tsp dried parsley
1 stock cube
Directions
Put lentils into a large saucepan and rinse them, carefully draining the water away. I repeat three times
To your rinsed lentils, add about a litre of water. You might need more - I never measure water in soup as it's individual how thick you want it!
Put lid on saucepan and bring to the boil. Reduce heat a little until it's still bubbling gently
If not already done so, rinse and prepare the veg. Aim to have fairly even sized pieces of vegetable except the onion and garlic, which should be finely chopped
Add all of the vegetables and herbs. Stir and leave to simmer for about 30 minutes. If you feel it needs more water, then add some
Check that the lentils have turned mushy and then add the stock cube, being careful to mix in thoroughly
Leave to simmer for a further 15 mins and then serve or blend and serve if you prefer smooth soup.