White Chocolate and Raspberry Torte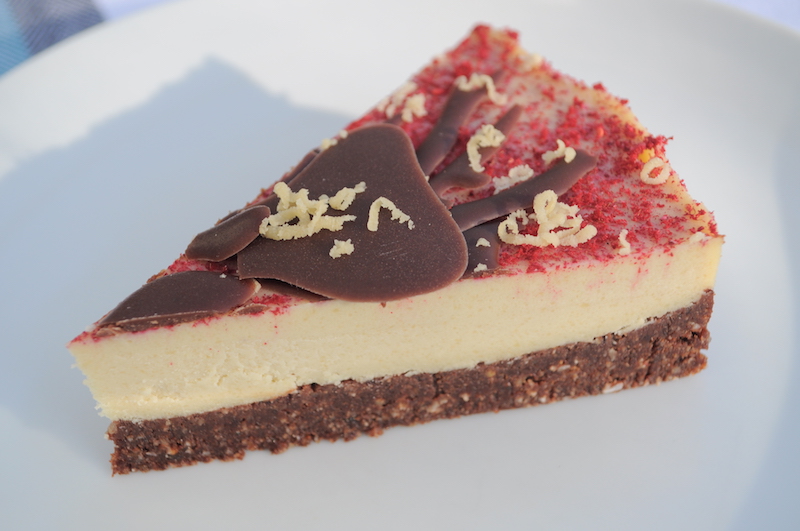 Description
A cool, sweet dessert with a rich dark chocolate and walnut base, a creamy white chocolate filling and a sharp raspberry powder to finish. This dish is plant-based but not completely whole-foods. It is rather decadent and not suitable for anyone trying to lose weight or reverse heart disease.
However, being packed with cashews, walnuts, cacao and dates, there's plenty of good nutrients for an occasional treat.
Ingredients
For the crust (bottom layer):
225g dates - soaked in hot water for about 15 minutes
100g walnuts
50g dessicated (unsweetened) coconut
30g cacao powder
For the white chocolate filling:
200g cashews - soaked in cold water for at least 1 hour
100g cacao butter - melted in a bowl over hot water
100g maple syrup
30g coconut milk powder
100ml hot water
1 tsp lemon juice
For the topping:
1 tbsp dried raspberry powder and any further decorations desired
Directions
Make the base layer by processing together all of the base ingredients (drained dates, walnuts, dessicated coconut and cacao powder) until a fine crumb texture is achieved. Scoop the mixture into a pie tin/dish and press into a smooth, even layer. We used a 10cm diameter tin with a removable base. Put in the fridge until your filling is ready.
Drain the cashews, place them and all of the filling ingredients (melted cacao butter, maple syrup, coconut milk powder, hot water and lemon) in the processor. Process until really smooth.
Spoon the filling on to the base and smooth out. Sprinkle raspberry powder on top - it will land more evenly if you use a sieve. Cool in the fridge for a few hours before devouring.
Enjoy every indulgent mouthful.