Passionfruit and Mango Tart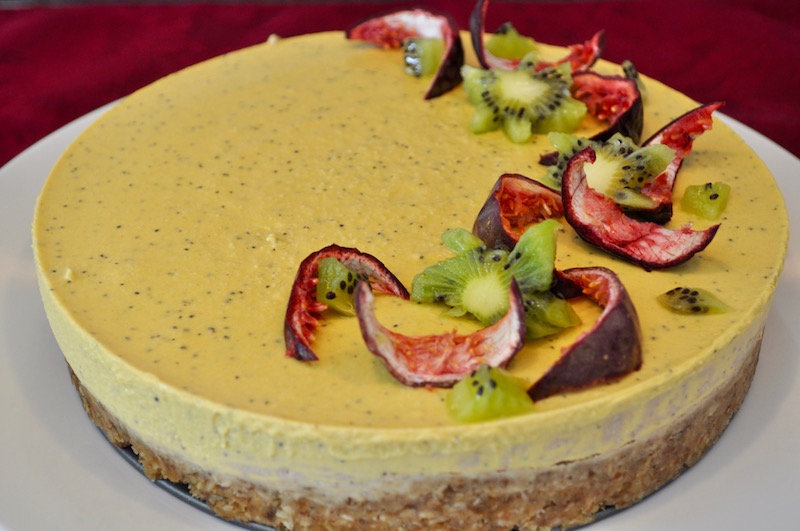 Description
The difficulty in writing recipes using natural wholefoods is that they vary so much! I could, for example, say to use two mangoes but you could have enormous mangoes available or only small ones - they might be ripe and sweet or hard and sour. It's a dilemma.
The outcome of this tart will depend very much on the sweetness of your mangoes and whether or not your passionfruits are truly ripe. It's absolutely possible to make this tart conforming completely to WFPB principles or there are a couple of cheeky cheats that I detail in the recipe.
Ingredients
FOR THE TART TOPPING
About 250g ripe mango flesh. It should be soft and moist without too many strings.
3 ripe passionfruits (they should have wrinkly skin)
225g cashews soaked in cold water for 4 hours
Optional: either three tablespoons coconut oil (if you are not concerned about saturated fat) or an agar mixture to firm up the tart. Neither of these are essential - it'll still taste great without these.
FOR THE TART BASE
250g dates (either ready-to-eat or soaked in boiling water for 20 minutes)
100g walnuts
75g dessicated coconut
Directions
Make the tart topping first:
Remove the passionfruit seeds, juice and flesh and blitz several times in a Nutribullet or other high-powered smoothie-maker with the mango flesh. If you use a food-processor the seeds may stay whole but in a Nutri they will be broken up. Save the passionfruit skins for decoration if you like.
Transfer to a food processor and add the cashews. Blend until smooth and creamy. At this stage, check the sweetness level - if the mangoes were sweet you shouldn't need any further sweetness, if not, you might need a tiny squizzle of maple syrup. Set aside your creamy mixture. Don't worry about cleaning the processor.
Now make the base for the tart:
Drain and check your dates. Put them in the processor and add the walnuts and coconut. Pulse until you get a crumbly mixture that sticks together.
Press the mixture into a loose-bottomed tart or cake tin. Firm it down into an even layer.
Assemble the tart:
Pour the creamy mixture on top of the base and smooth it
Cover the tin with foil
Freeze for about 4-5 hours until solid.
Decorate and enjoy!