Thai Red Curry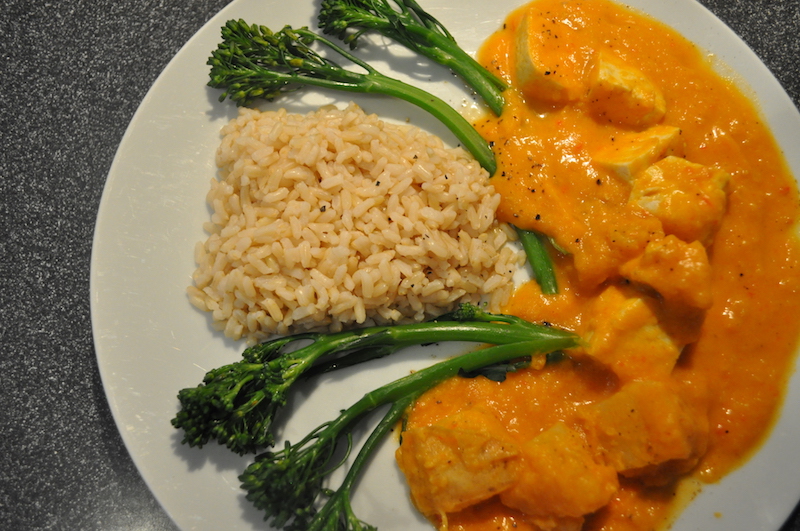 Description
Packed with vegetables, this is a creamy, fragrant Thai curry with tofu and potato. Delicious with rice - or if you're avoiding rice it would also work well with naan bread or even on its own with extra potato. Add spinach for some more greenery, if you are not prone to kidney stones.
Ingredients
300g butternut squash (I used frozen to reduce prep time)
2 medium potatoes, washed and chopped into pieces
1 block extra firm tofu, cut into chunks
1 sweet red pepper, seeds removed, roughly chopped
4 small onions, roughly chopped
2 tbsp tomato puree
100g of coconut block (known as 'creamed coconut' but actually, it's just dried and compacted coconut flesh). If you are concerned about the saturated fat, it's possible to remove the translucent section of the block, which is solid oil.
3 mugs water
2 dates
2 cloves garlic
Half tsp coriander powder
Half tsp cumin
Half tsp paprika
2 tsp lemongrass paste or 2 lemongrass stalks, prepared to a smooth pulp
Half tsp galangal paste
Juice of 1 lime
Broccoli
Rice or other accompaniment
Seasoning to taste
Directions
Place the squash and the water in a deep pan and bring to a simmer.
Add all of the remaining ingredients except the potatoes, rice and broccoli.
If you are cooking rice, start that now.
Simmer for about 10 minutes. Remove from heat and use stick blender to blend until a smooth sauce is achieved.
Add the potato and bring back to a simmer for 10 minutes.
Add the tofu. Continue to simmer.
Steam the broccoli for a few minutes. I do ours with a drop of water in a ceramic frying pan with a lid on.
Once the potatoes are soft and your rice is ready, season and serve up.