Quick Saag Aloo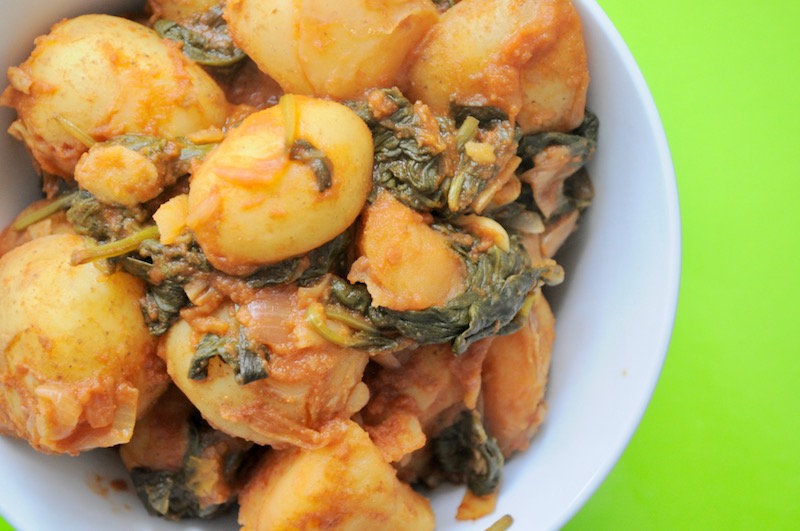 Description
A super-speedy simple take on the classic potato and spinach dish. So delicious with other curries or even on its own.
We've kept it whole-food plant-based but have used some time-saving ingredients to make this a feasible quick lunch or dinner recipe.
We've left the quantity of spinach very open as people with a tendancy to form kidney stones might choose to use less and those of us who love spinach might want to use more.
Ingredients
1 large can of new potatoes (ready cooked - approx 400g of potato) or 400g new potatoes, washed and boiled until soft
100-200g baby leaf spinach - washed
1 chopped onion
2 cloves garlic or a tsp garlic puree
optional 1 cm cubed amount of grated ginger
1 heaped tbsp tomato puree
Half tsp cumin
1 tsp coriander spice
Quarter tsp turmeric
1 tsp garam masala
Directions
Dry fry the onion for a minute then add the garlic (and ginger if using)
Add all of the spices - cumin, coriander, turmeric and garam masala and a little drop of water. Fry for a minute, constantly stirring
Add the tomato puree, potatoes and spinach
Once stirred together thoroughly, put on a lid, decrease the heat slightly and let cook for about 8-10 minutes, checking regularly to make sure it's not sticking. If it gets a bit dry, add a little drop of water.
Enjoy on its own hot or cold or as an accompaniment to an Indian meal.