Sweet Paprika Beans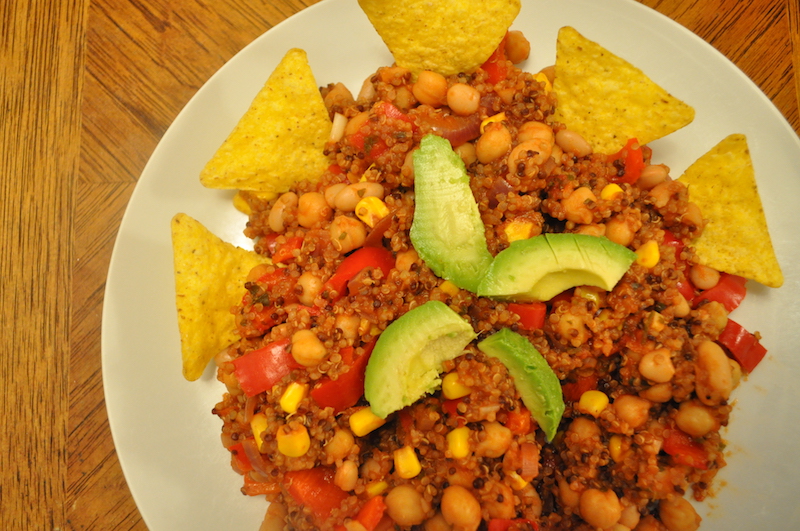 Description
A warming, filling pulse-rich main meal with quinoa, this has become a family favourite in our household.
With pulses (beans, lentils etc.,) being one of the healthiest, cheapest foods on earth, it's great to cook a dish that can be prepared in 10 minutes and then left to gently simmer for half an hour before quickly stirring in the quinoa before eating. To make it even quicker you could use frozen bell peppers that have already been chopped up.
Ingredients
1 carton ready cooked chickpeas (400g before draining)
1 carton ready cooked cannellini beans (400g before draining)
200g passata
1 pack ready cooked quinoa (250g)
200ml stock
1 tsp dried parsley
1 large red pepper, chopped
3 medium red onions, finely sliced
3 cloves garlic, pressed
1 tsp sweet smoked paprika
Directions
Dry fry the red onions for a few minutes.
Add the pepper and garlic and stir until the pepper is starting to soften. Add the paprika.
Drain and rinse the chickpeas and beans.
Add the chickpeas, beans and passata.
Stir well and add the stock and parsley.
Gently simmer for 30 minutes, stirring occasionally.
Add the quinoa, stir until it is warmed through.
Serve either on its own, with bread or some tortillas and avocado.