Cherry & Almond Cake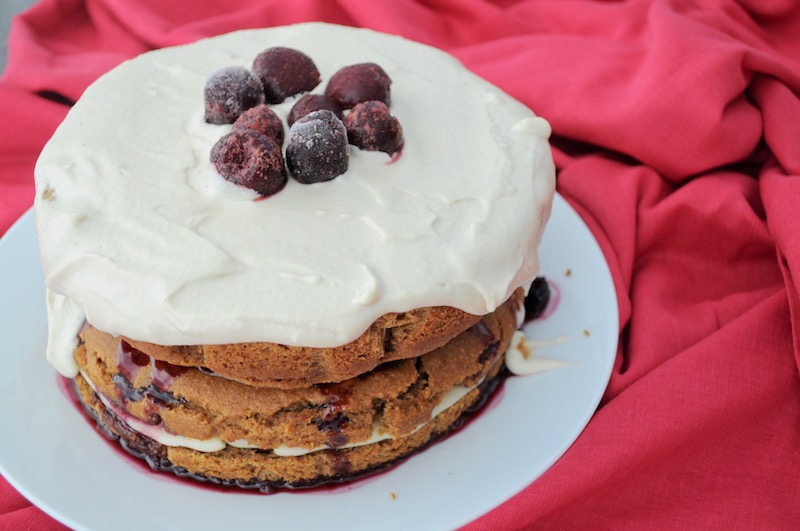 Description
A classic flavour combination that is sweet, rich and decadent. This cake is deceptively easy to make.
This is a plant-based but not whole-foods cake. Why not whole-foods? Well, it's quite tough to make a proper sponge cake without using flour! In this instance we used a self-raising gluten free flour. We also opted to use coconut palm sugar instead of dates to sweeten to keep the sponge a little lighter.
As our usual sugar-free cherry fruit spread was not available, I used my 92 year old grandmother's cherry and apple jam recipe. I used sugar for the first time in years. Next time I'll try making it without the sugar and see if it works; I bet it does.
Ingredients
For the sponge cake
3 ripe bananas
300g ground almonds
320g self-raising flour - we used gluten-free
280g coconut palm sugar
240ml water (16 tablespoons!). If you are using wheat flour you might need less than this. Our gluten-free flour needs a little more liquid than a wheat-based one
If you want it extra-almondy, you could add 1 tsp almond extract.
For the decoration
200g cashews - soaked in cold water for a few hours
Drizzle of maple syrup to taste or 100g soaked dates
Water
Cherries and cherry jam or fruit spread. If your fruit spread is a little thick, you could heat it and add some fresh or frozen cherries and a little water to make it more drippy and interesting.
Directions
For the cake:
Preheat oven to 160C Fan
Use a stick blender to blend the bananas in a large bowl
Add the ground almonds and coconut palm sugar and mix thoroughly
Finally, add the flour and water to a thick batter consistency
Spoon mixture into two or three baking tins of the same size and shape
Bake for about 20-30 minutes, until the sponge springs back when pressed lightly
Allow to cool before decorating
For the icing:
Use a Nutribullet or high-speed blender. Put cashews in and enough water to just about cover them. Add some maple syrup if you're using it or dates if you're using them (check for stones first). Give it a blast and then taste for sweetness. Add more maple if needed. If you have any lemon handy, a small squeeze of lemon can lift the flavours and keep the icing looking fresh.
To assemble:
Layer up the cake with the cherry jam/spread and then finish with the icing on top. If you have three layers you could use a small amount of the icing in between two of the layers - just reserve some for the top to assemble your masterpiece.