Freekeh-Tempeh Tamari (A Reality Bites meal idea)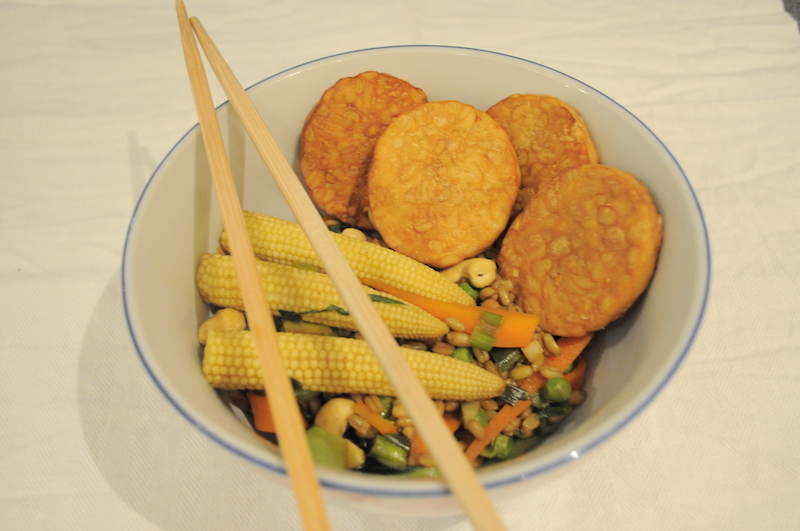 Ready in 20 minutes & high in anti-AMD nutrients
Available in ready-cooked easy to use packages, freekeh is a wheat grain that's harvested when green.
The good-old stir fry - quick to do, cheat ingredients readily available! If you're short of time, a frozen pack of stir fry mix can be a brilliant time-saver. All you need to add for a meal is a wholegrain (in this case a pack of cooked freekeh), some tempeh and some marinade ingredients. 20 minutes later you can sit down to a nourishing meal.
I haven't written a formal recipe as it really depends on how you like your stir fries! I sliced the tempeh and sprinkled with a marinade of garlic, mirin, tamari and ginger. I then grilled it for about 8 minutes on each side. The result was a very 'meaty' dense texture. It doesn't have a strong flavour of its own so it's good to cover it with a flavour you like - maybe add some chilli if you like heat.
To flavour the stir fry I simply added the remaining marinade near the end of cooking and then added some cashews once the heat was off.
I must confess that I'm not a stir fry fan but this worked fine for our family. If you're finding it too bland, then adding a dollop of barbecue sauce works wonders!

But why freekeh (a free-harvested wheat grain)? It's high in fibre and prebiotics (so very good for the microbiome), it's got really good levels of iron, calcium, zinc, B vitamins and manganese. It's also high in lutein and zeaxanthin - two nutrients that can help prevent age-related macular degeneration, a leading cause of blindness. As my own sister has recently been diagnosed with AMD, this is very much on my radar.

This meal contains a brilliant amount of the following critical nutrients:
fibre
vitamin A
vitamin K
protein
folate
calcium
vitamin C
iron
manganese
zinc