Crazy about Cruciferous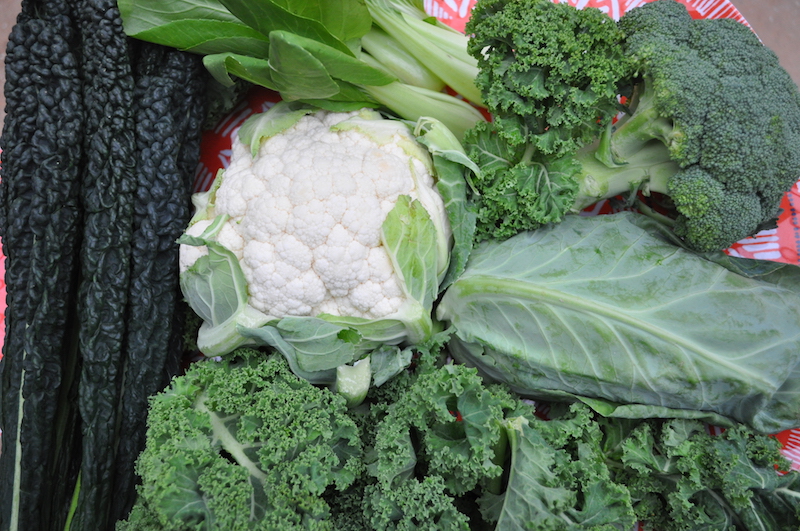 Cabbage, kale and cavolo nero - three of our favourite things!
We aim to eat about 150g-170g of greens and cruciferous vegetables each a day as they are so beneficial to health. But how do we cram that much veg into our weekly menu?
Our food shopping arrived today - hooray! Each week the fridge gets rammed with loads of cruciferous vegetables and here is a list of this week's goodies and the meals we're going to include them in:
1. Pointed cabbage - shredded finely in cassoulet and coleslaw
2. Broccoli - pizza and roast
3. Cauliflower - steamed with some creamed coconut and curry powder as an accompaniment to dahl
4. Cavolo nero - chopped into chilli, as a side veg for our Sunday roast and whizzed up in pesto
5. Kale - finely shredded into mulligatawny in place of spinach
6. Pak choi - tofu korma
Why the obsession with eating lots of cruciferous veg? Well, they...
reduce cholesterol
increase antioxidants
help you think more clearly
help to detox air pollution
help to improve respiratory defenses
reduce inflammation
...and finally are thought to be chemopreventive (helping reduce risk of cancer).
There are so many ways to include green leafy vegetables and cruciferous vegetables in your meals; this is just a starting point. How will you eat yours? .